Your content goes here. Edit or remove this text inline or in the module Content settings. You can also style every aspect of this content in the module Design settings and even apply custom CSS to this text in the module Advanced settings.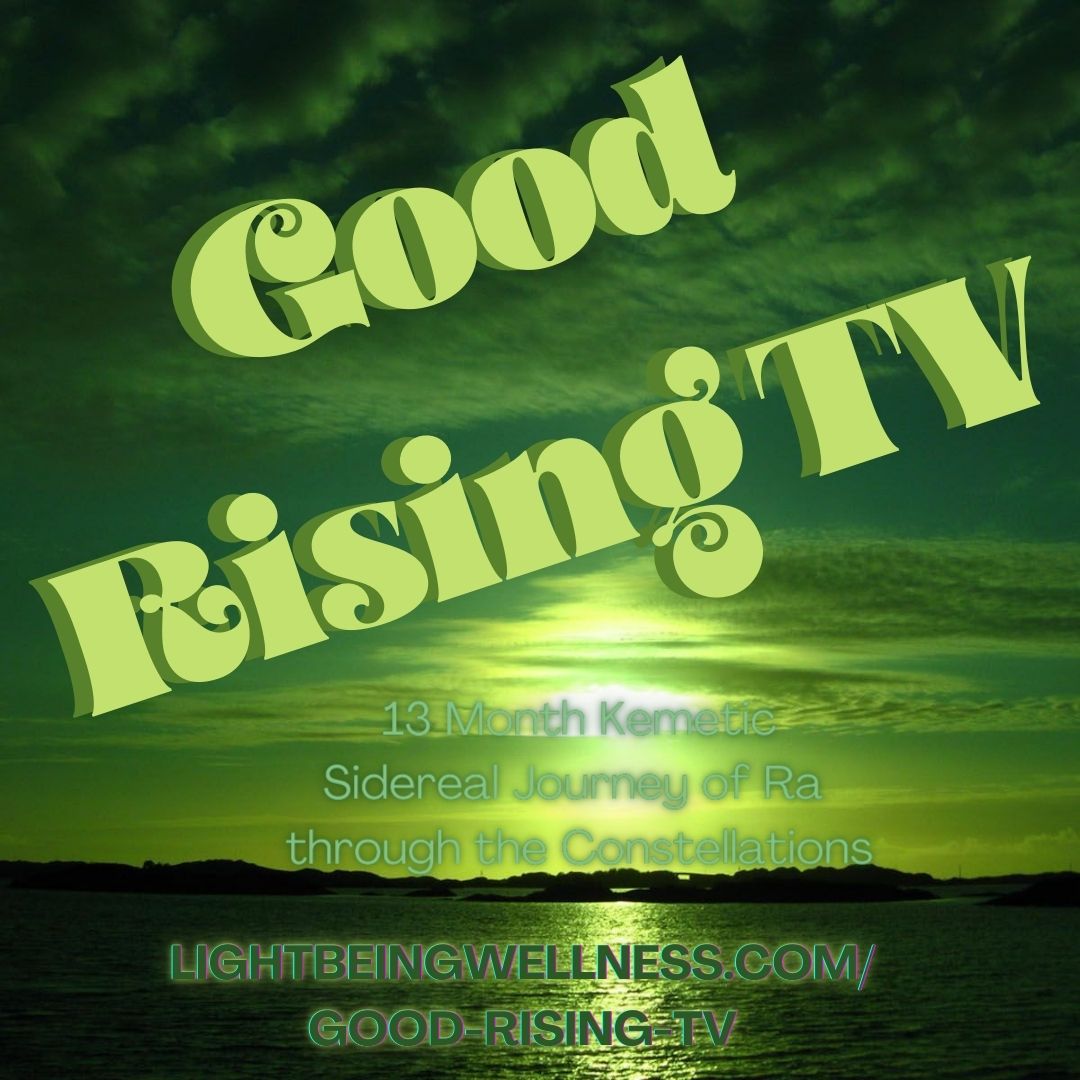 Good Rising Great Awakenings!
Ever since I experienced a Green Flash Sunrise, there has been much change healing and transdformation in my life. I have let go of organizational ties, relationships, longings, schedules, institutions, standards, etc that I have held into for decades. I let go of wanting to follow the Lunar calendar: after trying for like 30 years, I realized that it is not what I want! I was feeling like a Lunatic! It was just too often. I am more of a Galactic Girl…
I began to listen to the rhythm of my life, and waited until the right schedule for these offerings to be revealed to me. It was so exciting when it happened, while I was out walking my dog! "Tune into the 13 Month Kemetic Sidereal Calendar" and VOLIA! Just like that, Good Rising TV is Rising Again. Rise Again is the translation of my name, Tchiya. 
There are 13 zodiacs along the ecliptic,
so there will be
13 HeruScopes Transmissions
per Year.
In 2023, we are starting with
SIDEREAL CAPRICORN.   January 20-
February 16.
DUA GEB.
Jan 19 or Jan 20?
In the announcement video, I was still using the dates from a chart I created back in 2001. However, time moves forward one day every 70 years, so time has changed. Durimg this Mercury Retrograde Season, I will be updating my chart. There is an updated chart down below on this page. Also, in Astrology, it is important to know which timezone is quoted. I find many mistakes are made when people quote a time in UTC, thinking it is their local timezone. I'd say that original chart has served its purpose…
These LIVESTREAM Transmissions can include topics like:
Cosmic Chimes & Chanting for the Solar Transit

HeruScopes 13 Month Kemetic Sidereal forecast of what is to come during the month

Cosmic Sound Healing Self Care Protocols

Pendulum Readings

Herbal Remedie

Purification Principles

Kemetic Wisdom

Turtle Island Medicine

Crystal Communication

What Else is Called For by Spirit & Divine Intuition
SIDEREAL CAPRICORN
January 20 – February 16
2:00AM CT
GEB
SIDEREAL AQUARIUS
February 16 – March 11
12:30PM CT
HERU
SIDEREAL PISCES
March 12 – April 18
2:00PM CT
NEBTHET
SIDEREAL ARIES
April 18 – May 13
SET
SIDEREAL TAURUS
May 13 – June 21
HETHERU
SIDEREAL GEMINI
June 21 – July 20
DJEHUTY
SIDEREAL CANCER

July 20 – August 10
KHEPERA
SIDEREAL LEO
August 10 –
September 16
SEKHMET
SIDEREAL VIRGO
September 16 –
October 30
SESHETA
SIDEREAL LIBRA
October 30 –
November 23
MAAT
SIDEREAL SCORPIO
November 23 –
November 29
SET
OPHIUCHUS
November 29 –
December 17
IMHOTEP
SIDEREAL SAGITTARIUS
December 17 –
January 20
ASAR AMUN
For more information, check out HeruScopes at LightBeingWellness.com/HeruScopes.
Download the HeruScopes Handbook and Resource eGuide
You can obtain a personal Chart, Analysis, Consultation, Kemetic Konnections
(Cosmic Chimes & Chanting for Your Earth Arrival Date and Time) OR, you can combine all of these with a KemeTones Cosmic Sound Healing Session!
Click on the Astrology Services tab above or visit lightbeingwellness.com to learn more
Solar Sidereal Updates: Good Rising TV
Friday, January 20th, 2023
2:00am – 1:30am
LIVESTREAM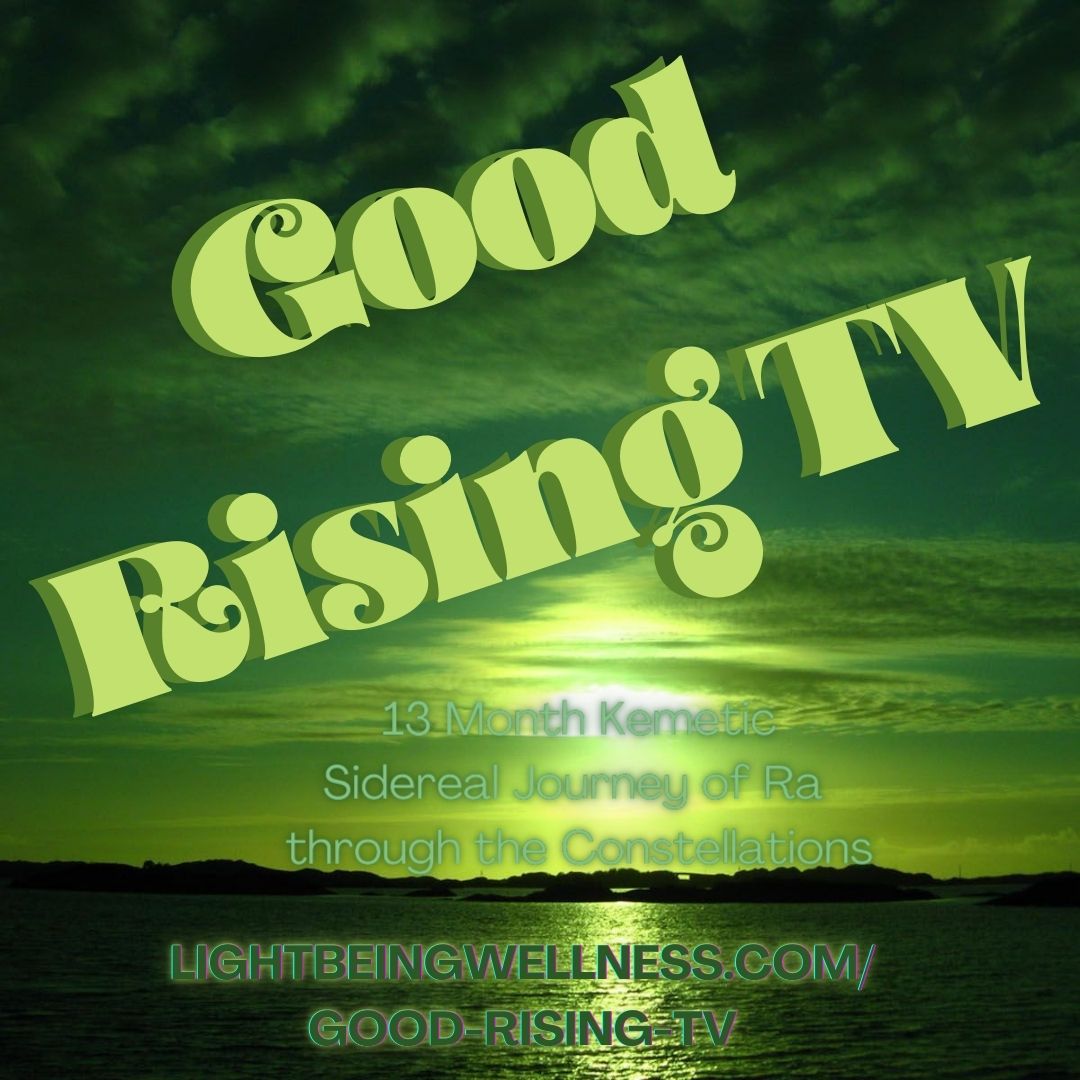 People ask me why I don't say Grand Rising. It is because when I first started using the expression, Good Rising, I was tired of Mourning each day. I had been in a terrible state of ptsd and depression. For a few decades. I met some peiople that were saying Good Rising instead of Good Morning. This was way back in 2003. I only say Good Morning when I am having a horrible day. I say Good Rising because God is Good. We are rising in consciousness to our god state or goddess state. I still say Good Rising because it is a daily vibe. Sometimes, there is indeed a reason to say Grand Rising, however, Good Rising is Good enough for me… Sometimes, just being at peace, in silence is grand enough, in stillness. I don't need much more than that. It is a matter of reference or perspective… I prefer to stay in the Middle, Balanced, in Maat, not out in the emotional extremes… Gratitide more than expectation.
Light & Life

ps: here is a link to the ORIGINAL Good Rising TV page…. have come along way since then….
Green Flash Sunrise
This is the event that saved my life and really turned things around…
Click Here